Your experienced and dynamic partner
Participate in a trade show: often an exceptional situation. An event, taken from everydays business. Spatial, scheduling and organizational.

In this situation, Cubiblue® has been operational since 1994 with a dynamic, experienced team, a competent and reliable service provider. Founded by diploma designer and owner Guido Bourgeret, the company is located in the center of Europe, close to the border triangle Aachen. Initially, rooms were rented in a start-up center before the company moved to its own building in 2004. In 2006, Cubiblue® was registered as a registered trademark.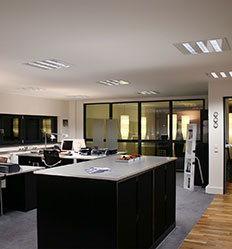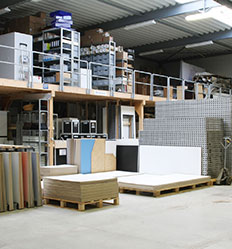 Firstly, a first idea, your demand for an individual company appearance, your briefing and a budget - this is how our work can start. Our answer is a comprehensive CAD rendering, a sampling of planned materials, a concept for all our project-related services and a definite quotation.
Finding clear, memorable designs, setting high standards of quality and originality of material and execution, absolute reliability and every possible service around the booth project - to create the basis for a successful trade show participation for our customers - this is our daily challenge we fulfill with passion and commitment. Personal contact with the customer is self-evident from start to delivery. Projects in Germany, Western Europe, the USA, China, Singapore and India have already been successfully carried out.

A variety of service providers and craftsmen are at our disposal to solve a wide range of tasks. This way, we draw on competencies being available when we need them.

Thus Cubiblue® remains extremely flexible, can respond in the short term and concentrate on the requirements of national and international customers.